Birds Sanctuary
TOP 4 SPECTACULAR BIRDS SANCTUARY IN HYDERABAD SHOULD VISIT
A Wildlife Sanctuary is a place reserved for wild animals and birds. A Wildlife Sanctuary is also a refuge for injured animals. Once treated they are released but they can stay there if they had injuries which could be dangerous for them if they stayed out in the wild again.
A wildlife sanctuary plays the most important part of preserving endangered species and rare species. A wildlife sanctuary has a research team which creates home-like conditions for these animals and breed them until they have reached safer levels. By visiting a wildlife sanctuary one will understand how important wildlife is for mankind.
A child will understand the importance of stop crimes against animals and let them be free in their natural habitat. you can find the best birds Sanctuary In Hyderabad. By visiting a wildlife sanctuary a person will realize that it is high time we stop taking measure for our expanding population and actually think about controlling it because we are hurting all the animal and bird species that were created along with us.
Manjira Sanctuary
The Telangana state has a number of wildlife sanctuaries but Manjira Wildlife Sanctuary is quite different from the rest. Located in Medak district of Telangana State, the unique quality of this place is that in the wildlife sanctuary, there is also a reservoir. This reservoir is the reason every wildlife lover should visit Manjira.
It is a must-visit for people who are into bird watching and anyone who is fascinated by crocodiles. The reservoir is a beautiful place to spend a day at and can be easily reached. It is located 50 km northwest of Hyderabad. Manjira Wildlife Sanctuary also has an Environmental Education Centre which comprises a library, a museum, and an auditorium.
During the migratory season, one can see a variety of exotic birds converging on the banks of the river at the sanctuary to make it their temporary home. Manjira is one of the famous Birds Sanctuary In Hyderabad.
Uppalapadu Bird Sanctuary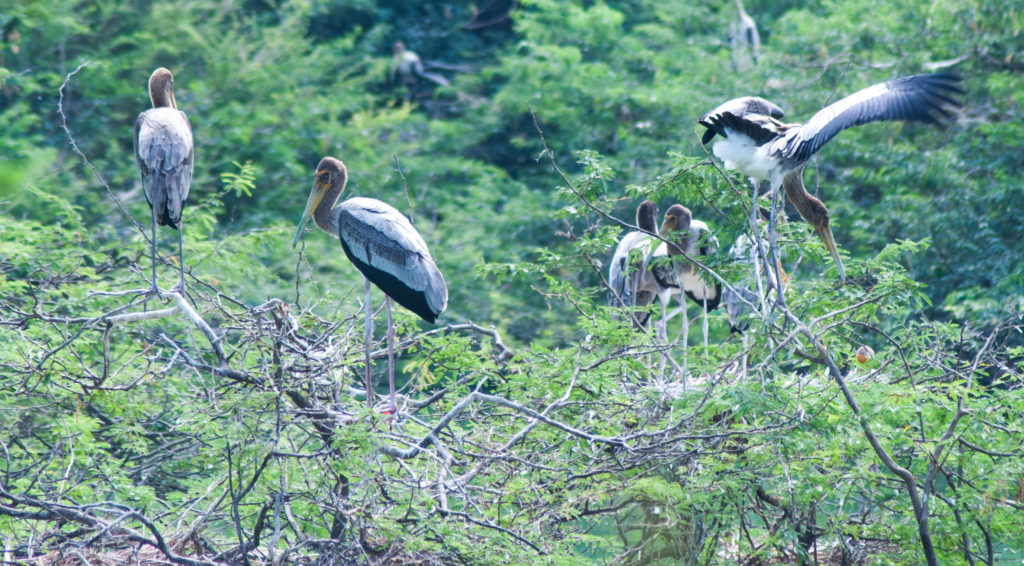 Uppalapadu Bird Sanctuary is located in the Guntur district at a distance of around 10 km from the Guntur city. Flourishing near a major city of Andhra Pradesh, this wonderful sanctuary is home to several migratory as well indigenous birds.
As it is situated near the center of Guntur district, it is visited by hundreds of tourists every week. For local tourists and nearby settlements, Uppalapadu Bird Sanctuary is a weekend destination and a preferable picnic spot. With a cool environment and a natural setting, this alluring sanctuary attracts several nature lovers who come here to enjoy pristine air amid the modern town of Guntur.
The Uppalapadu Bird Sanctuary is the only one in Guntur. Pelicans live here in large numbers. Giving them the company is painted storks and a few ducks. Apart from birds, there is not much that you can see at the sanctuary. To get the best views of the birds, visit during the migratory season. This is between December and January.
Kolleru Lake Bird Sanctuary
Kolleru Bird Sanctuary is located in between Krishna and Godavari deltas, state of Andhra Pradesh. The lake is one of the largest freshwater lakes in India and listed under Ramsar Convention wetland of international importance. Kolleru Lake was declared as a bird sanctuary and visited by two million birds including grey pelicans, glossy ibises, painted storks, and Asian Openbill.
Bird Sanctuary in Kolleru Lake in the Kaikalur Mandal is the center of attraction for tourists to spot pelicans birds in Andhra Pradesh. The Kolleru Lake Bird Sanctuary is also known as the Colair Lake in Andhra Pradesh. During the months of monsoon, the lake expands for vast miles of about 260 square kilometres and this lake is very useful for the fishermen because it abounds in carps and prawns that fetch a high value in the market.
These fishes are finally processed to be marketed. Many varieties of birds like Gadwalls, and Avocets, Widgeons, Cormorants are the common variety of birds there. Many different types of waterfowl are also found in the Kolleru Lake. This water tank known as Muthyraju Tank is located near the same region. The best season to here is visit between Novembers to March.
Nelapattu Bird Sanctuary
Nelapattu Bird Sanctuary is one of the most famed bird sanctuaries of the country located in Nellore district of Andhra Pradesh. It lies at a distance of about 50 kilometres from Chennai. It is enlisted amongst the largest habitats of pelicans in Southeast Asia. Apart from these, it also shelters a number of native and migratory birds and serves as a breeding ground for numerous rare and endangered species of birds.
Spanning over an area of 404 square kilometres, the sanctuary derives its name from Nelapattu village situated nearby. In addition to these, a number of animals are also the inhabitants of the reserve forest of the sanctuary. Reptiles like Snakes, Tortoises and Monitor Lizard and mammals like Slender Loris and Jackals are commonly found here. The sanctuary also houses a well-equipped auditorium with audio-visual systems for discussions and seminars. Another highlight of the sanctuary is a deer park which shelters about 20 deer. Vehicles are provided by the park authorities for enjoying a deer safari and exploring the most strategic points of the forest, in addition to spotting the deer and other animals.
Related Post